Contact Information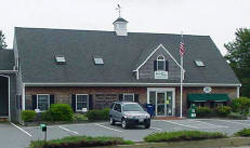 Location, Address, and Hours
We are located on the island of Deer Isle, on Sunset Road, in the Sunset Post Office building.
MCO/Maine Camp Outfitters
P.O. Box 67
300 Sunset Road
Sunset, ME 04683
Monday-Friday 9:00 am - 5:00 pm EST
Phone & Fax
207-348-2459
800-560-6090
800-560-6091
207-348-6285 Fax
866-729-8930 Fax
Email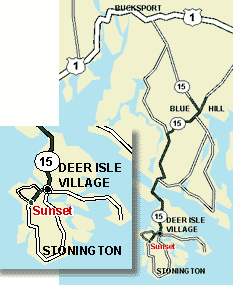 Map and Directions
From anywhere, it's a beautiful ride!
From the south, go up Route 1 to Bucksport. Across the bridge, bear right and continue until you see signs for Route 15. Take Route 15 to Blue Hill, turn right at the blinking light, and head south, following Route 15 all the way. Follow Route 15 from the Blue Hill peninsula across the bridge. Bear left and proceed to Deer Isle Village. Turn right in the village, cross the little causeway, and turn left at the top of the rise. We are located 2 miles down the road on the left, in the Sunset Post Office building, with ample parking.
Lost? Confused? Email or call us toll-free at 1-800-560-6090 and we'll help you find us!